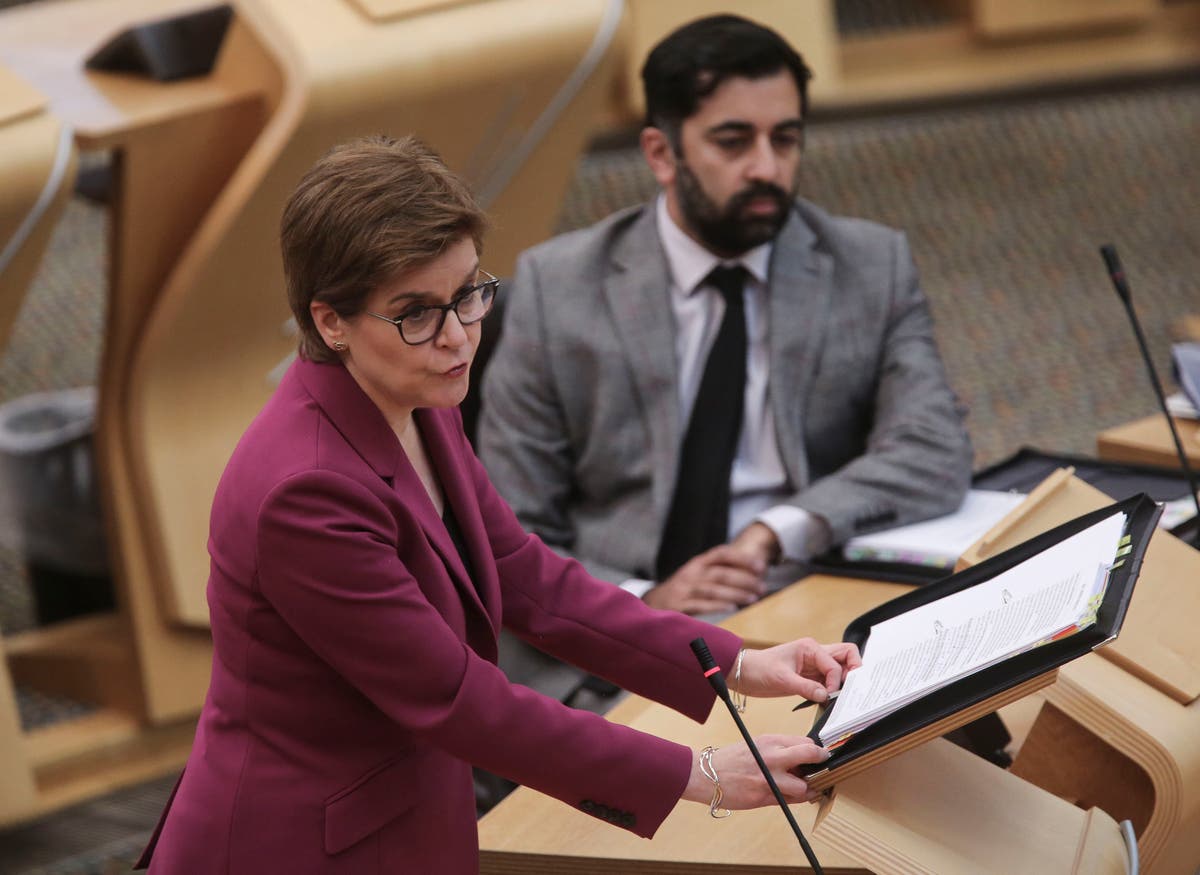 Nicola Sturgeon urged the Scottish public to use the Covid lateral flow tests before socializing and shopping in crowded places to stop 'inadvertently transmitting the virus'.
Making the "vitally important" request, the Prime Minister begged the Scots that "on any occasion you socialize with others," including for drinks, dinners and shopping, "please take a test Before leaving".
"And if it's positive, don't go. Instead, take a PCR test and isolate yourself while waiting for the result, "she added. "That way you minimize the risk of inadvertently transmitting the virus, even if you don't have any symptoms. "
However, the Scottish Prime Minister also announced that the Covid passport regime will not be extended to more sites – despite the situation north of the border which remains "precarious".
It comes after she revealed last week that the cabinet had discussed expanding the program to include cinemas, theaters and pubs, in response to a gradual increase in transmission.
Under the current system, people over 18 are required to demonstrate that they have received both doses of a Covid-19 vaccine in order to access nightclubs, adult entertainment venues, non-seated indoor events with over 500 people, non-seated outdoor events with over 4,000 people, any event with over 10,000 people in attendance.
But in her statement on Tuesday, Ms Sturgeon said it would be "not proportionate" to expand the use of Covid passports "at this point."
"We were also aware of the need over the next few weeks to get the message across that it is important to be vaccinated and tested before socializing in any setting – including homes and malls, for example. example – not just in those that could be covered by a certification system, "she said.
From December 6, however, the Prime Minister said that evidence of negative lateral flow will also be used to access nightclubs or major events – rather than just evidence of a Covid-19 vaccine.
She also confirmed that there would be no other changes to the remaining regulations, such as mask wearing and working from home.
Amid a wave of cases in parts of mainland Europe, Ms Sturgeon said "we can see very clearly that the Covid situation is deteriorating again" with the reimposition of restrictions by some governments.
"All of this is a stark reminder that the threat of the pandemic is not yet behind us," she added.
"Covid continues to force governments around the world to make some really tough decisions. This is also true here in Scotland. While fortunately we do not see at this stage the rapid increase in the number of cases experienced by others, the situation remains precarious. "
As the holiday season approaches, she continues, "People are going to socialize and mingle more than usual. So even though our position is now relatively stable compared to some other countries, we must continue to be careful and not let ourselves be lulled into a false sense of security. "