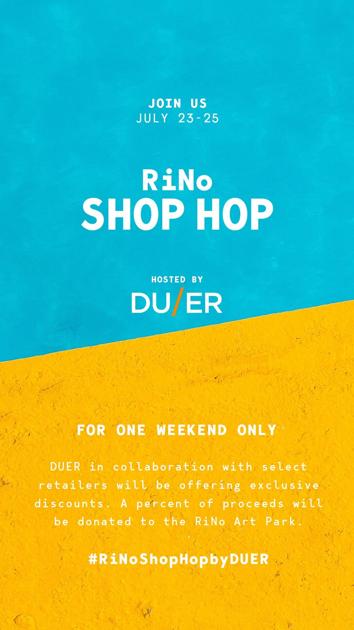 In an effort to bring shoppers back to the River North Arts District in Denver, several stores have gathered for a Shop Hop event starting Friday.
A portion of the proceeds earned by six participating retailers will be donated to the new RiNo Art Park at 1900 35th St.
"We are delighted that the RiNo Shop Hop has chosen to donate the proceeds to our next phase of park development," said Marian Pulford, Director of Development at the RiNo Art District.
The idea for Shop Hop started after the makers of DUER Performance Apparel thought about ways to introduce themselves to the community and bring people together at the same time, said Nadia Gillies, DUER brand manager.
"We wanted to give something back to the customers who have supported us over the past year, but we also wanted to get to know our neighboring retailers in the RiNo area," said Gillies. "We saw this as a way to do both, while donating a portion of the proceeds to a great cause."
Retailers scheduled to attend the event included DUER, Topo Designs, Shop Recital, Adult Entertainment, and the Museum for Black Girls.
Each store plans to carry exclusive in-store offers throughout the event. Some like DUER also plan to distribute free products.
"The first 10 people entering the store each day, each of those three days, will receive free pants," said Gillies.
Business leaders said they hoped the event would bring back longtime customers while also attracting new buyers.
"It's so exciting and being able to throw a block party and incorporate a comeback initiative is really important to us and our neighboring community," said Gillies. "I think this event will generate a lot of traffic in the RiNo district, but also bring a lot of excitement over the weekend, and I hope DUER brings some brand awareness."