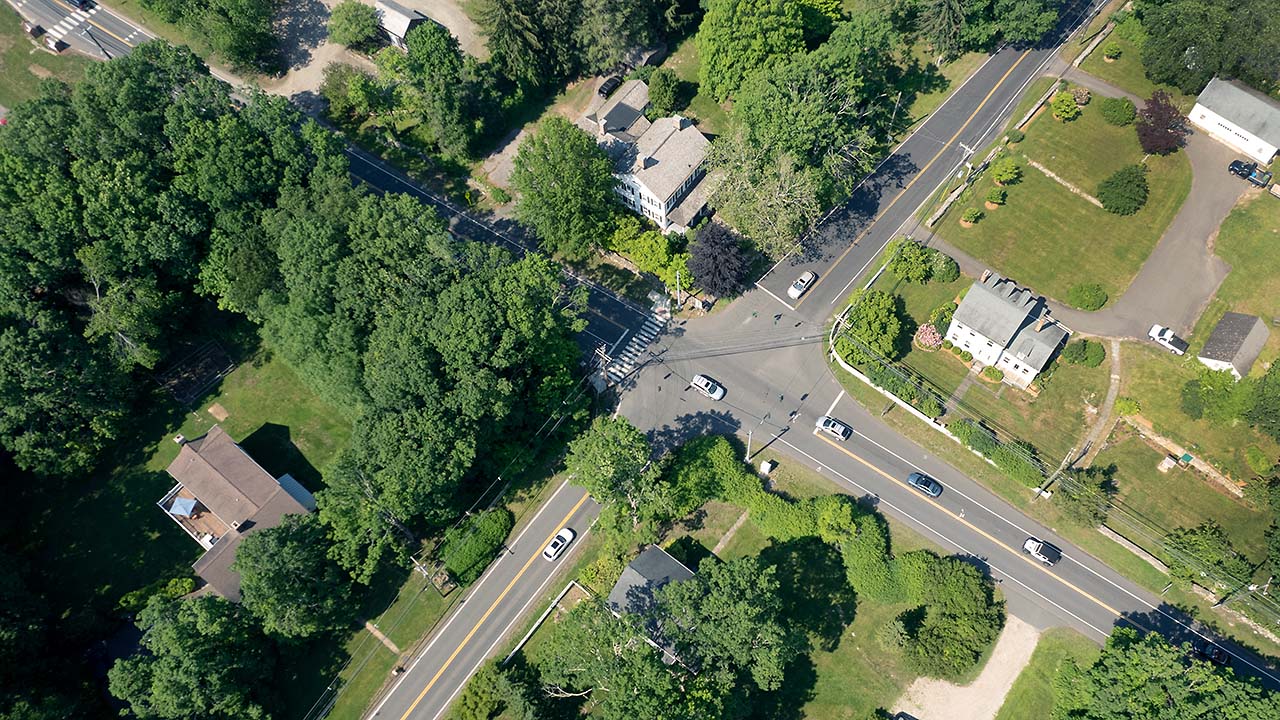 Weston's "Four Corners", June 2021. Weston Today photo
October 1, 2021 | by Ted Craft
The establishment of a village district to possibly increase the commercial development of the city center is on the agenda of a public hearing of the Planning and Zoning Commission on Monday, October 4 at 7.15 p.m.
The hearing takes place on Zoom:
https://us02web.zoom.us/j/83159286254
To reach by phone:
(646) 558-8656
Webinar number: 831 5928 6254
Access code: 744543
Links to relevant documents appear at the end of this article.
The plan
The plan on the table represents the first major change in Weston's zoning since the regulations came into effect in 1970. It also includes options for various housing units and provides for increased connectivity and pedestrian activity.
An advantage of a village district under state law is that local planning authorities can determine permitted uses and architectural standards within its perimeter to ensure consistency with the character of the city. P & Z's draft plan has essentially been in the works for over three years as the commission created the 10-year conservation and development plan, starting with a series of steps to gather public opinion feedback.
About the neighborhood
P&Z plans to act on the proposed village neighborhood this month, after hearing from the public on Monday. If the draft plan or a modified version is adopted, the village district would include the four corners of Weston and Norfield roads, go up Weston Road (route 57) past Onion Barn to School Road, cross over 57 to include the mall and the undeveloped lot behind, then walk up Norfield to Willow Drive, which is roughly across from St. Francis of Assisi Church.
Properties located directly at the four corners and facing Weston Road will be part of a sub-district limited to commercial or mixed use. Mixed use is defined as commercial on the first floor and residential on the second.
P&Z's draft plan specifically provides for allowing (upon approval of applications) certain commercial uses in the district and excluding others.
In: retail and grocery stores, pharmacies, health clubs, hair salons, nail salons, cafes, restaurants, delicatessens, professional offices, bakeries, ice cream parlors, craft businesses, certain uses of food trucks, microbreweries, charging stations and purely residential units in some cases.
Outside: drive-thru, car washes, laundromats, sale of firearms, ammunition or related accessories, tattoo parlors, funeral homes, cinemas, entertainment and equipment for "adults", establishments of cannabis, sale or rental of motor vehicles, body shops and AirBnB.
Limits, affordability
The draft by-law includes limits on the height of buildings in the village neighborhood (35 feet) and sets a maximum size (11,000 square feet) for the non-residential part of the structures. Second-floor apartments in mixed-use buildings are limited to two bedrooms. Lots should be at least one acre, restaurants are allowed to sit outside, and parking is provided behind buildings, ideally in a shared arrangement.
An affordability requirement specifies that in any development of five or more housing units, 15 percent must meet affordability standards set out in state law.
A side note: As a separate issue regarding affordable housing in the city beyond the village district, at some point before the end of this year, P&Z will have to decide to opt out of a new state law. which requires cities to allow owners to separate apartments ("UAD", secondary suites) on their properties. The law allows cities to opt out by a two-thirds majority vote of P&Z and the Board of Selectmen.
Architecture review
Applications for development in the Village District will be subject to an architectural review aimed at preserving the character of Weston, New England, promoting sustainable design and ensuring that development is compatible with existing historic structures.
The general idea is that nominations will be submitted to an architectural review committee made up of residents with backgrounds in architecture, construction, engineering or similar disciplines who require or develop expertise in the analysis of designs and styles. . As we understand it, it is hoped that volunteering for the council will be particularly attractive to young residents who see living in Weston as a long-term prospect, thus giving them an interest in how the city grows and develops in the to come up.
The four corners
Zoning can only make development possible. Whether and when developers will invest is a guess. Except in one case.
Throughout the planning process, all four corners of Weston Road and Norfield Road received considerable attention from P&Z and the public. From the first of several charettes – public meetings designed to learn about citizens' preferences – residents clearly expressed a strong preference for a restaurant, cafe, or gathering space in the area.
At the first charette in April 2019, red stickers on a poster of choice were things people said they didn't want. The board was green with upvotes for a place where people could eat and gather.
The development of three of the four corner properties seems unlikely anytime soon, if at all. One is owned by the Norfield Congregational Church, the other is a private residence, the other is the city-owned Jarvis House, currently used as parks and recreation offices.
But 48 Norfield Road, the Georgian house next to the Onion Barn, looks most likely to be the first new commercial feature of a Village District, if it is created, and if a permit is ultimately granted by P&Z for what Jess DiPasquale, the property owner, has it in mind. Mr. DiPasquale has his work cut out for him, so his intentions won't materialize right away, but he's eager to get started.
He's hoping to open a pub or restaurant that could also, during the day, have meeting rooms where people can interact or work, perhaps something like a WeWork space.
In addition to developing a specific design and a set of plans, Mr. DiPasquale will have a traffic study carried out. He will need a variety of permits and permissions from the health department, and his eventual application to P&Z for a special permit will need to include a parking plan that meets the Commission's criteria.
Details and documents
The legal notices of the P&Z hearing are available here.
The presentation slides for the audience can be viewed and downloaded here.
The proposed new zoning bylaws, with the changes in red, are here.
These and a number of documents and records of previous meetings are available here.